Seminarie inbjudan - Spinfire NYHETER!

Seminarium torsdag 24 maj 2014

12.45 - 13.00 Introduction

13.00 - 13.30 Hot news - Spinfire V12 demonstration

13.30 - 14.00 Coffee Break

14.00 - 14.30 User story - how products are used

14.30 - 15.00 Hot News - Design Share Presentation

15.00 - 15.30 Design Share Demonstration - NEW

15.30 close
Beroende på deltagar antal och mix av intresse kan uppdelning ske i olika grupper. Flera av oss har lång erfarenhet av PDM och dokumenthanterings- system bl a fördelar, nackdelar och även hur man kopplar samman detta.

Design Share är integrerad med Microsoft Share Point en program som följer med gratis för de som använder t ex Exchange Server. Detta möjliggör tidsstämpling, versionshantering, projektöversikt för alla användare som bara öppnar använder saker i denna miljö. Det blir så enkelt och Spinfire är det enda cad-programmet som klarar av detta idag. Ni som inte vill ha pdm eller ni som vill att alla ska kunna vara med i nätverket - här finns en fiffig lösning som ger minimum av administration och är på byggbart för den som själv vill göra mer.

Presentatörer:

- Graham Hill, Senior Application Manager, Actify Inc.
- Chris Jones, CEO, Actify Inc.

- Tomas Konsa, North EU Manager

Intresse av server, fleranvändarlösning, microsoft-net och pdf




Spinfire Nordic
by Pro Nordic Technology AB
Besöksadress (ej postadress):


se karta här!
Hängpilsgatan 6
426 77 Västra Frölunda, Sweden

Om kart länk ovan ej fungerar:
http://kartor.eniro.se/
sätt in besöksadressen på Eniro sök
Hjärtligt välkomna
Actify Inc. och
Spinfire Nordic
Nyheter och information i kortfattad översikt på engelska!
Actify Spinfire - Svensk Produktöversikt


Our product line has expanded greatly with the release of Actify Publisher and SpinFire for Microsoft Office. As such, we have put together The Actify Suite of Products Brochure to allow customers to view everything Actify has to offer.
The Actify Suite of Products:
(click on the broschure)
SpinFire Professional
Actify Publisher
SpinFire for Microsoft Office
Actify Server
SpinFire Reader


Click here to view the PDF
SpinFire for Microsoft Office Trial Download

Deliver 2D and 3D CAD design data to any enterprise and supply chain desktop and create interactive 3D Office and PDF files!

SpinFire for Microsoft Office eliminates the need to access native CAD files by leveraging Actify's compressed .3D file format to communicate CAD information in Word, Excel, and PowerPoint documents.

What's more, since SpinFire for Microsoft Office is closely integrated with Tracker's software product PDF-XChange, the creation of the 3D interactive PDF file is available and can be created by a "one button" operation through the SpinFire for Microsoft Office software solution!

CLICK HERE to download your free trial of SpinFire for Microsoft Office today.

Create interactive 3D PDF files now!

Click here to view the above image as an interactive 3D PDF file!


Actify In the News

The following is a list of recent press coverage that Actify has received from selected media: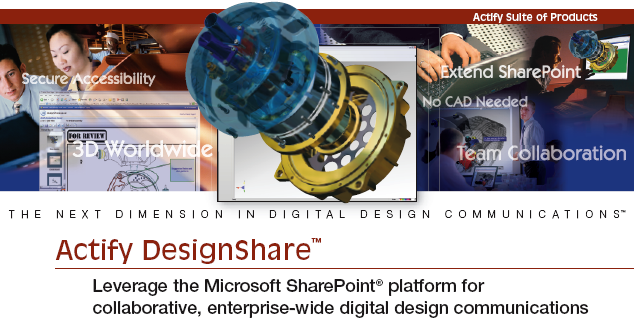 Actify DesignShare™ enables workgroups to quickly and securely track, collaborate on, and manage CAD data, plus all related documents, enterprise-wide. Easily deployed, it unites the Actify Suite of Products with the document management, sharing, and collaboration capabilities built into every Microsoft® SharePoint™ managed environment.
Through Actify DesignShare's managed server based environment, users are be able to:
Leverage the Actify Suite of Products to interact in common environment for team collaboration on managed data

Store, manage, and share CAD data enterprise-wide from a centralized, dedicated platform

Utilize assembly-level CAD viewing, markup, sectioning, and measurement capabilities

Track and control internal and external CAD data communications

Improve batch publishing accuracy, consistency, and efficiency, reducing software and maintenance costs
Deliver cost-effective, secure, and easy-to-configure and -use CAD data collaboration and communication
Digital design communications for the enterprise
Unlike product data management (PDM) and product lifecycle management (PLM) systems, Actify DesignShare is affordable, easy to work with, and equally well-suited for use by small teams or large enterprises.If your company designs or manufactures mechanical products, and wants to both facilitate CAD data collaboration and control the communications process and information —Actify DesignShare is the answer.
Actify Promotions

for active maintenance customers
Free 2D/3D Upgrade
If you are a customer that has the 3D-Only version of CATIA and Unigraphics AND you have a current maintenance agreement, you can now upgrade to the 2D/3D version of those importers, for free!
For further details regarding the specifics of this promotion
and for information on any other current promotions
, please contact
Spinfire Nordic
.
Spinfire Nordic
by Pro Nordic Technology AB
Postadress: Pejlingsgatan 14, 426 76 Västra Frölunda
Besöksadress:
Hängpilsgatan 6
426 77 Västra Frölunda, Sweden
Tel: 031- 290079
Fax: 031- 7690932
Se karta för besök HÄR!

www.spinfire.se
Actify, Inc.
60 Spear Street
Suite 500
San Francisco, California 94105
www.actify.com